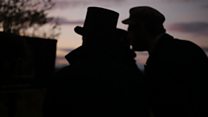 Video
Aberdeen body snatcher tale told in new film
The dubious dealings of a grave-robbing anatomist are the inspiration behind a new film being shot in the North East.
"The Burkin Hoose" tells the true story of Dr Andrew Moir who accompanied his students on body-snatching expeditions in a desperate effort to better his medicine.
His actions proved too much for the Aberdeen public who had been shocked by the notorious Burke and Hare case only a few years earlier.
An angry mob burned his anatomy school to the ground shouting 'burn the Burkin hoose!'.
Filming by Crow House Projects is currently under way across several locations in the North East including Aberdeen's anatomy rooms.
BBC Scotland's Rachel Bell caught up with the production team.