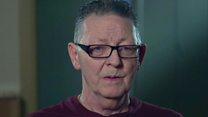 Video
Greenock family's decades long struggle to find each other
The story of the surviving members of a large family who were scattered around Scotland when the children were removed from the family home in the 1950s is to be told in a TV documentary.
There were at least 17 children in the Clark family; six died in infancy and others were adopted, fostered or placed in children's homes across the country.
Despite neglect by their parents, the siblings have fought to be reunited.
BBC Scotland's Aileen Clarke has had a preview of programme.
A Family Divided, which tells the story of the Clark family's struggle to find each other, will be broadcast at 21:00 on Tuesday, 11 April on BBC Two Scotland.