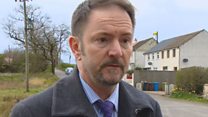 Video
Environmental health boss says illegal dump removal could take days
An environmental health officer said a fly-infested illegal rubbish dump in Newton Mearns could take several days to clear.
East Renfrewshire Council environmental health manager, John Davidson, told BBC Scotland that the sooner it was removed "the better" for nearby residents.
They have complained about a swarm of flies entering their homes and gardens since the beginning of April.
On when the removal work would begin, Mr Davidson said: "We are hopeful it will commence tomorrow morning and if not soon after in conjunction with some pest control activity to try and limit any release of flies.
"But it could take several days, it depends on how quickly the material can be removed."