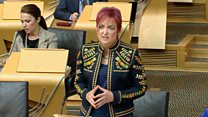 Video
Scottish government sets out priorities for devolved benefits
The Scottish government says the timely payment of benefits devolved to Holyrood is its top priority.
Social Security Secretary Angela Constance said: "Our top priority is that people receive the right payments at the right time".
Ms Constance also announced that carers benefit will be increased in line with job seekers allowance from April 2018 with the first increased payments scheduled for that summer.
The new social security agency will administer 10 of the 11 devolved benefits, including carers allowance and winter fuel payments, with discretionary housing payments and the Scottish welfare fund delivered by local authorities.