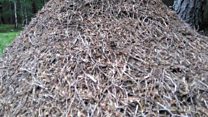 Video
Industrious ants in Cairngorms National Park
The industrious nature of some of Nature's smallest creatures has been recorded in part of the Cairngorms National Park.
Over decades, ants of several varieties have constructed a massive hill on the Glen Tanar Estate in Aberdeenshire, even creating "roads" – little tracks to and from the nest made by thousands of tiny feet over many years.
Glen Tanar Ranger Service working with volunteers and Cairngorms park staff has been carrying out surveys of ants in the area, and working with the estate on regenerating the woodland.
The ranger service said this hill was significant because it was on an area of ancient woodland.
The ants have survived even through a period of post-war planting of non-native, exotic conifers in the area.
The woodland is now having its biodiversity restored.
The video of the ant hill was taken by Cairngorms Nature.