Media player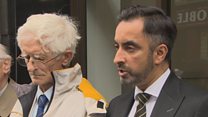 Media playback is unsupported on your device
Video
Lockerbie bombing: Megrahi family appeal for 'justice'
The family of Lockerbie bomber Abdelbaset al-Megrahi has lodged a new bid to appeal against his conviction.
The move comes five years after his death, and more than 28 years after the bombing of Pan Am Flight 103.
Lawyer Aamer Anwar said the appeal court should hear the case "in the interests of justice and restoring confidence in our criminal justice system".