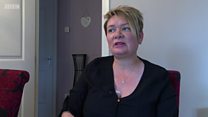 Video
New treatment for pulmonary arterial hypertension rejected for use on NHS
Patients living with pulmonary arterial hypertension have expressed disappointment at the Scottish Medicines Consortium's (SMC) decision not to approve a new treatment for the condition. The SMC rejected the drug selexipag for use on the NHS, saying evidence of the clinical and economic benefits was "not robust enough".
Pauline Harrison, from Inverness, who was diagnosed with the condition during pregnancy seven years ago, told BBC Scotland she wants the consortium to reconsider.
Three other medicines, for different conditions, were given the green light for routine use by the SMC.