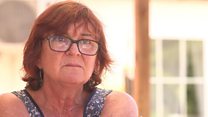 Video
Liam Fee social worker says she was 'scapegoat'
A former social worker struck off for her failings, including in the case of murdered toddler Liam Fee, believes she has been made a "scapegoat".
Lesley Bate admitted she made mistakes by not properly following up concerns about injuries found on Liam. But she said she went on sick leave a year before Liam's murder, so others should also be held accountable.
Fife Council chief executive, Steve Grimmond, said: "Every effort is made to support staff in their jobs and the council works hard to help those who are experiencing difficulties.
"A link has been made with this worker and the death of Liam Fee through the media - not by the council."
Fife's Child Killings: The Untold Story will be broadcast on BBC One Scotland on Wednesday 2 August at 21:00, and available for 30 days on the BBC iPlayer.