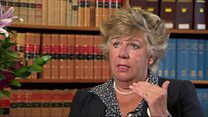 Video
Judge says sentences should take society impact into account
Lord Justice Clerk Lady Dorrian, Scotland's second most senior judge, said judges and sheriffs had a variety of factors to take into consideration when passing sentence.
She was speaking on the day members of the public were asked to comment on how offenders are sentenced by the courts.
Lady Dorrian told BBC Scotland's home affairs correspondent Reevel Alderson: "The overall principle is that the sentencing should be fair and proportionate.
"But that must take into account things like the impact on society, the circumstances of the offender, whether there needs to be a balance between the issue of punishment or the potential for rehabilitation.
"These are all matters for the individual sentencing judge, but they are all matters which are touched upon in this guideline."