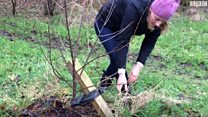 Video
'It brings people together to learn about their food'
A community orchard in the east end of Glasgow has been named one of the best in the UK.
Director Clem Sandison and her group of local volunteers planted the Alexandra Park Food Forest only last year.
Clem says the food forest is a way of bringing the local community together and teaching them about their food.
"It gets them a chance to get their hands dirty, learn about the soil, learn about wildlife and biodiversity and really get involved," she says.
The food forest won £500 in Helping Britain Blossom's community orchard competition, which shall be put towards buying more unusual crops and funding events and workshops.