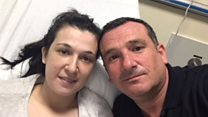 Video
A firefighter saved his daughter's life with a kidney transplant
As a fire station master, Alex Hume knows more than most about saving lives.
When his daughter Kayleigh fell seriously ill, he promised her he'd make sure she'd get better.
Kayleigh, 25, has the genetic condition Alport syndrome, which can lead to kidney failure.
Alex, 47, said: "It was late teens when we knew that things were deteriorating and she was going to start dialysis, and ultimately require a kidney transplant.
"Because I always knew that Kayleigh had kidney problems, I always hoped I would be a match for her.
But Alex was not a match.
After years of dialysis, Kayleigh was able to receive one of his kidneys through a groundbreaking technique.
It had become possible to carry out blood group incompatible transplants using specialist techniques, which removes antibodies from the blood.
Both operations were a success.
Go to next video: Heart transplant plea for sister of donor