Media player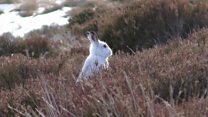 Media playback is unsupported on your device
Video
New footage shows large-scale hare-culling
The BBC has obtained what is thought to be the first footage of large-scale hare culling on Scottish grouse moors.
The video has provoked calls for the Scottish government to intervene and impose a total ban on hare culling.
The film was passed to BBC Scotland's Investigations unit by animal rights charities OneKind and The League Against Cruel Sports.
It shows teams of gamekeepers using all-terrain vehicles to access remote hillsides and shoot hares last month.
The footage contains scenes some viewers may find upsetting.