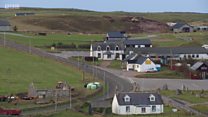 Video
Scotland's North Coast 500 gets its own PhD
The University of the Highlands and Islands is launching a postgraduate place linked to the North Coast 500 (NC500) route.
Stories of the area's history and heritage will be gathered in conjunction with the NC500 tourism initiative.
Since its launch in 2015, the scheme has increased visitor traffic to the north Highlands.
Dr Iain Robertson of UHI said the initiative was vital as "history, culture, identity make the region".
"These are questions that a PhD student can address and will address," he said.
Backers hope the work will benefit tourism in the region. Tom Campbell from the NC500 said: "It's about adding layer and depth to experiences".
The NC500 route was established in 2005.