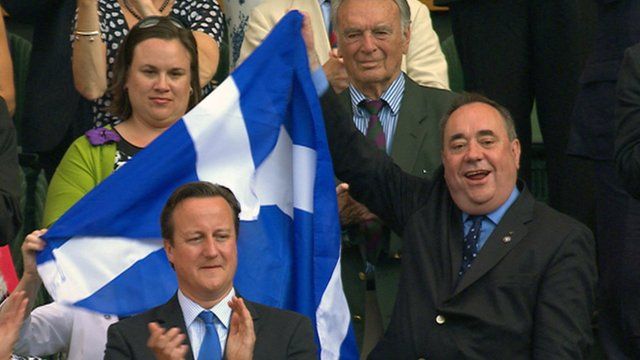 Video
Andy Murray win: Alex Salmond defends Saltire flag waving
First Minister Alex Salmond said it was fitting for him to wave a two foot long Saltire flag at Wimbledon in the wake of Scot Andy Murray's historic grand slam victory.
He told BBC Radio Scotland's Good Morning Scotland programme that the London venue's owners, the All England Club, "didn't mind" what some newspapers had said was a stunt.
The Saltire was held by Mr Salmond and his wife Moira who were sitting behind the Prime Minister David Cameron.
The first Minister said: "I had it last year, I just didn't get the chance to wave it last year. There were lots of Saltires being hoisted over Wimbledon yesterday. The All England Club didn't mind at all.
"The Saltire is our national flag, Andy is a fantastic, magnificent Scots sportsman, anybody has the right to wave the national flag, it is a great way to celebrate this amazing triumph."