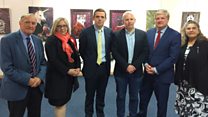 Video
General Election 2017: Moray constituency radio debate
Ahead of the 8 June general election, BBC Radio Scotland hosted a debate - chaired by the BBC's Andrew Kerr - in the Westminster seat of Moray.
The SNP, Conservative, Labour and Liberal Democrat parties were all represented on the panel.
Local issues were debated alongside two key political subjects - the possibility of a second Scottish independence referendum and the future of Brexit negotiations.
Who's in the picture? (from left): Sir Malcolm Bruce (Lib Dem standing in for candidate Alex Linklater); Joanne Kirby (Labour candidate); Douglas Ross (Conservative candidate); BBC host Andrew Kerr; Angus Robertson (SNP candidate) and Anne Betty Glen (Independent candidate)