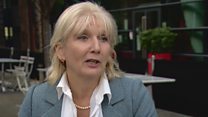 Video
List row candidate Belinda Don: 'I'm not in with Ruth Davidson'
Former Conservative MEP candidate Belinda Don who is threatening legal action against her party said she was not in Scottish leader Ruth Davidson's political clique.
The row is the result of Ian Duncan standing down from the European Parliament after being made a peer.
MEPs are selected from party lists, with Ms Don the first candidate in line to replace Mr Duncan. However, the Conservatives said she was no longer on their "approved" list.
Ms Don told BBC Scotland's Glenn Campbell: "It seems that if you are not in with Ruth Davidson, then you are out.
"I do think it doesn't reflect well if politicians are seen to be part of an in-crowd clique and I don't think this is doing anything to help our cause. I think people will think it smacks of cronyism."