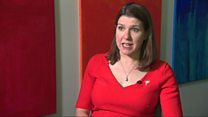 Video
Lib Dem Jo Swinson: 'Cancel indyref2 for this parliament'
New deputy leader of the Liberal Democrats, Scottish MP Jo Swinson, believes First Minister Nicola Sturgeon should say no to a second independence referendum for the duration of this parliament.
She told the BBC's David Porter: "Indyre2 should be off the table, it should be cancelled at the very least for this parliament. It should be a once-in-a-generation thing, if it is to happen again."
Ms Swinson added that Ms Sturgeon should concentrate on education "where we have been sliding down the league tables".
She went on to insist that the Scottish government should look at the economy which was "teetering on the brink of recession". However, the latest GDP figures for Scotland showed the economy had grown by 0.8%, thanks to an increase in the production and services sectors.
Before Holyrood's summer recess, Ms Sturgeon announced that she was going to put referendum legislation on hold. She had previously called for an independence referendum to be held in the autumn of 2018 or spring of 2019.