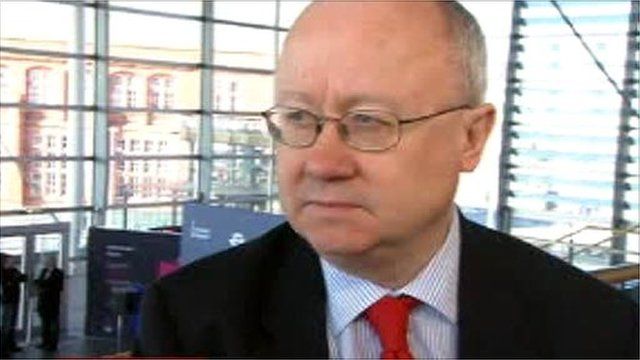 Video
Leighton Andrews welcomes GCSE English regrade results
More than 2,300 pupils have received better GCSE English Language results after a regrading of exam papers.
The WJEC examining board worked over the weekend after Education Minister Leighton Andrews said grade boundaries had been set in a way that was unfair to candidates in Wales.
As a result, 1,202 students will have this summer's grades increased from a D to a C and 598 from a C to a B grade.
Lowering boundaries also meant some changes at other grades.
This resulted in an overall figure of 2,386 receiving raised grades.
On Monday, Westminster Education Secretary Michael Gove revealed that GCSEs in core subjects in England will be replaced by a qualification called the English Baccalaureate Certificate (EBC).
Mr Gove challenged Mr Andrews to "embrace the progressive reforms that this coalition government has put forward".
In an interview with Gareth Lewis on BBC Radio Wales, Mr Andrews said the regrading was a good outcome for students. He said Mr Gove seemed to have forgotten GCSEs were also qualifications in Wales and Northern Ireland.