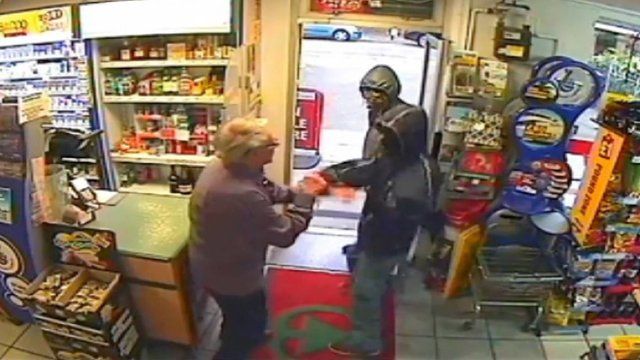 Video
Shopkeeper Dennis Trounce, 84, tackles thieves
An 84-year-old shopkeeper from Penarth in the Vale of Glamorgan has been describing how he tackled two teenage thieves.
Dennis Trounce called the two men who tried to steal cigarettes from the Stanwell Road spar shop at about 21:00 BST on Sunday "a couple of amateurs".
The confrontation was recorded on the shop's CCTV, which shows the pair of thieves go behind the counter before Mr Trounce confronts them.
Mr Trounce told the Jason Mohammad show on BBC Radio Wales he wrestled with the pair to get them out of the shop after challenging one of them who said he had a knife and realised that they were not armed.
"If he'd produced a knife that would be totally different too," said Mr Trounce, denying any suggestion that he was a hero for taking on the thieves.
"I'm not silly enough to think I could have overcome somebody with a knife about a quarter of my age."