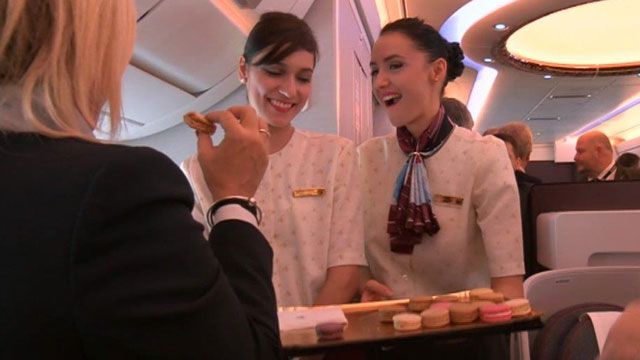 Video
A first look on board Airbus A350 to Broughton and back
Airbus will reveal its latest sales figures and how it is performing in competition with US aircraft giant Boeing later.
It comes as the first commercial flight of its new A350 airliner is due to take off later this week.
Eighty of the aircraft, whose huge wings are made at Broughton in Flintshire, have been bought by Qatar Airways.
The first A350 will fly from Frankfurt to Doha.
But on Monday it was put through its final paces with a flight from Heathrow over Broughton and Airbus's other plant at Filton near Bristol, with passengers on board.
BBC Wales business correspondent Brian Meechan was one of the first on board the plane and also talked to Elliott Donnelly, a Flintshire worker who was picked to be among those joining the first in the cabin.
Go to next video: £56m for Airbus' Flintshire plant