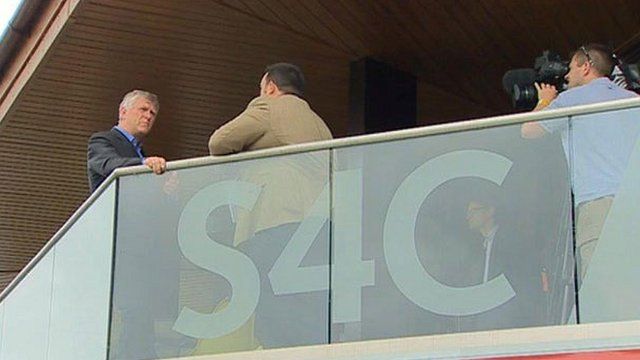 Video
Welsh living across the border 'turning to S4C'
There has been a 6% fall in the number of people who watched S4C on TV each week in Wales in the last year, the channel has said.
For at least three minutes a week during 2014/15, 360,000 people watched compared to 383,000 the year before.
Chairman of the S4C Authority Huw Jones said viewing figures in the annual report should be "handled with care".
He said public service channels BBC Two and Channel 4 had also seen falls of between 5-7%.
There was a 10% increase in the number of people across the UK who saw the Welsh language channel for at least three minutes a week - from 551,000 in 2013/14 to 605,000 - during 2014/15.
Chief executive Ian Jones told BBC Wales' Aled Scourfield Welsh people in England and the growth of online was behind the rise in viewers as a whole.
Go to next video: New BBC agreement 'a good deal'