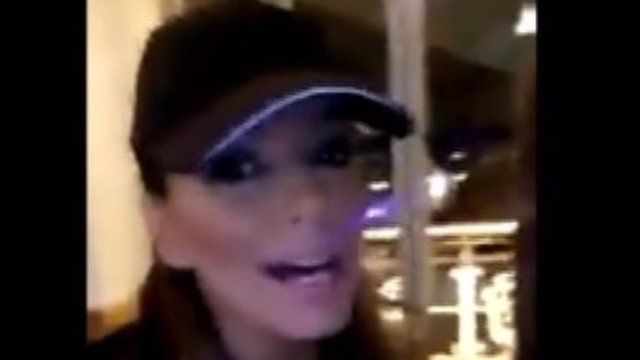 Video
Actress Eva Longoria practises Welsh in Cardiff
Hollywood actress Eva Longoria has been practising speaking Welsh while filming her latest TV show in Wales.
The Desperate Housewives star is seen rehearsing saying "nos da", which means good night, during an evening out in Cardiff.
She was filmed by Welsh actress Rhian Cheyne, who shared the video on Twitter after meeting Longoria at a Cardiff Bay restaurant.
Ms Cheyne said: "She just absolutely loved being in Wales, it was so nice to meet someone who is A-list and so down to earth."
Longoria is in Wales to film a BBC adaptation of Evelyn Waugh's novel Decline and Fall.
Ms Cheyne, who has just finished filming the BBC series Ordinary Lies in Wales, said she had spotted Longoria's posts on social media.
"We follow her on Snapchat so we knew she was there. We didn't want to disturb her but she was really friendly and open," she said.
"It was cool to speak Welsh to her as well."
Longoria stars alongside comedian Jack Whitehall and David Suchet in Decline and Fall, which will be broadcast later this year.
Go to next video: 'Deep concerns' over language plans