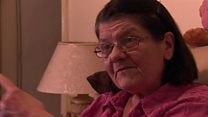 Video
'Harder to breathe' on polluted road says resident
Homeowners on the most polluted street in the UK outside of London have spoken of the impact of living with such bad air quality.
Their comments came as Public Health Wales called air pollution a "public health crisis" second only to smoking and more concerning than obesity and alcohol.
Its figures show 2,000 people per year in Wales die as a result of air pollution, or 6% of all deaths.
Dawn Howells lives on Hafodyrynys Road in Crumlin, Caerphilly, which has exceeded air pollution limits 57 times this year. EU rules say a road can only go over the level 18 times before breaching legal limits.
She said: "I go out the front - all the fumes and everything, it's harder to breathe."