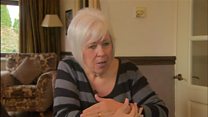 Video
Campaign against changes to women's state pension age
There are protests against changes to women's state pension age, as an MP has warned thousands will become "destitute" in Wales.
Swansea East MP Carolyn Harris said two-and-a-half million women in the UK are affected by the decision to equalise the state pension age.
Labour estimated about 135,000 of these were in Wales.
A Department of Work and Pensions spokesman said the decision was made more than 20 years ago for equality.
But Lesley Stubbs, 62, from Llanelli, Carmarthenshire, said women of her generation had already been discriminated against due to the gender pay gap, meaning their pension pots are smaller.