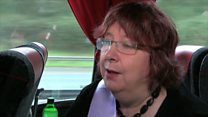 Video
WASPI women protest in London over pension changes
Hundreds of women from across Wales are taking part in a rally to highlight concerns over changes to the state pension scheme.
Swansea East MP Carolyn Harris said two and a half million women in the UK are affected by the decision to equalise the state pension age by 2020.
Previously women retired at 60, while men retired at 65.
Women have said they were discriminated against during their working lives due to the gender pay gap.
The Department of Work and Pensions said the decision was made more than 20 years ago for equality.
On International Women's Day, members of the group WASPI are travelling to London to take part in a rally.
They spoke to BBC reporter Sian Elin Dafydd on the bus trip.
Go to next video: Women 'already discriminated against'