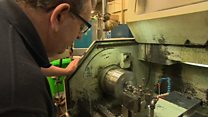 Video
Budget 2017: Resolven engineering boss on skills
The boss of an engineering firm in Neath Port Talbot welcomed anything in the Budget which could help productivity and skills.
Magor Designs in Resolven employs 45 people, designing and making the tools the car industry uses on its production lines
It makes hand assembly tools Jaguar Land Rover use to put its engines together and also supplies companies like Tenecco Walker in Merthyr Tydfil which makes parts for a range of car makers.
The company has grown steadily in the last few years. It said it needs to keep ahead of the curve to win business and do so by increasingly their own productivity by regularly improving their skills and their processes.
Managing director Ewan McConnell said part of the secret of its success was to keep continually develop skills.
Go to next video: The Budget in 45 seconds