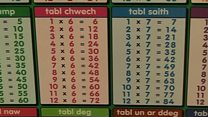 Video
Children's use of Welsh outside school is focus of study
Pupils learning through the medium of Welsh have the skills to talk about school subjects in the language but not necessarily the confidence to use it socially, according to an expert.
Dr Sion Aled Owen from Bangor University has been researching why some children might be reluctant to use the language outside the school gate.
He told BBC Radio Wales' Good Morning Wales programme that children could "discuss Pythagoras theorem with you in Welsh" but do not always have the skills to talk informally about "what you're going to do on Saturday".
A drive to almost double the number of Welsh speakers to one million by 2050 was unveiled by the Welsh Government last year.
Go to next video: Most Welsh speakers text in English