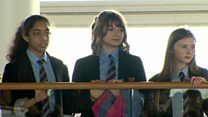 Video
Girls explain the attraction of science and maths
The poor take-up of girls studying and then working in science, technology and engineering has been highlighted at a campaigning conference in Cardiff.
The Princess Royal met girls from nine schools at the Celebration of Talented Women event, which involves industry and higher education.
Only one in six workers in key sectors is a woman and only 12% of engineering and technology students are female.
A new report calls it "a waste of knowledge and talent".
BBC Wales economics correspondent Sarah Dickins asked Fiza, Chardonnay and Rachael about why they were interested in science and maths.
Go to next video: Tackle industry gender gap at 'young age'