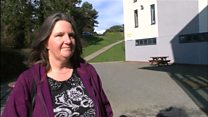 Video
Call for 'improved communication' in complaints process
Public service bodies are failing to learn lessons because of complaints being handled in an inadequate way, the ombudsman has said.
Nick Bennett said a "fear and blame" culture needed to be tackled describing the situation as "groundhog day".
Sue Pink and her husband Tim have been struggling to get suitable education for their two autistic sons. Their complaint to the ombudsman about Ceredigion council was upheld two years ago.
Mrs Pink said their complaint had been dealt with "very slowly" and calls for "improved communication".
The Welsh Government said it would consider the findings and expected all public bodies to do the same.