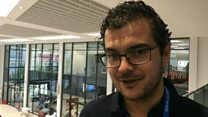 Video
SciSports sees football technology become reality
Football analytics company SciSports has won a competition to see their football innovations become a reality.
The firm, from the Netherlands, uses data to assess the quality and potential of football players around the world to help with recruitment and transfers.
The firm was among 10 start-ups who pitched to global sports and tech brands such as Uefa, Adidas, Amazon and Microsoft at the Hype Foundation event.
Cardiff University is partnering the Hype Foundation for the event at the university's business school.
SciSports' chef de mission, Giels Brouwer, will now go to Saturday's Champions League final and attend a special workshop at Uefa headquarters in Switzerland.
He said he was "honoured" to win the competition.