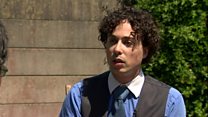 Video
From Brooklyn to Taff's Well - trainee GP enjoys experience
Significantly more junior doctors are choosing to come or stay in Wales to train to be GPs, the health secretary has said.
Currently 91% of the 136 available family doctor training places in NHS Wales have been filled, compared to 75% at the same stage last year.
One of those already here is Dr Michael Talierco, an American who is finishing his medical training as a GP in Taff's Well.
Originally from Brooklyn, NY, he has spent time training in Scotland, London and west Wales before settling near Cardiff.
As well as a £20,000 incentive for junior doctors to choose parts of Wales where there are GP shortages, Dr Talierco said the way of working is also appealing to trainee doctors.
He told BBC Wales health correspondent Owain Clarke he now wanted to "stay put" after finishing his training.
Go to next video: 'No easy answers' on GP recruitment