Media player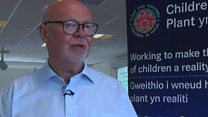 Media playback is unsupported on your device
Video
Uptake of apprenticeships 'a national disgrace', expert warns
Children living in poverty are being let down by a lack of adequate careers advice, an expert has warned.
An estimated 200,000 children live in poverty in Wales - the equivalent of one in three.
Prof David Egan, of Cardiff Metropolitan University, said careers advice was an "empty shell" in Wales and young people were not being encouraged to go down vocational routes, such as apprenticeships.
He said: "We are not offering young people the opportunity, to give them the leg up out of poverty."