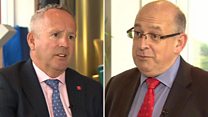 Video
Circuit of Wales decision 'sensible' - CBI
The decision to reject the Circuit of Wales project by the Welsh Government was sensible, CBI Wales has said.
The business body said refusing to underwrite £210m investment in the racetrack had been a "very, very difficult decision" for ministers.
It follows claims that Circuit of Wales investors were told by government officials that there were no "showstoppers" facing the project.
Plaid Cymru said an email was sent two weeks before the bid was turned down.
Ian Price, director of CBI Wales, told BBC Wales business correspondent Brian Meechan the move did not send out a message that Wales was not a place to do business in.
Meanwhile, chartered surveyor Chris Sutton, director of JLL property consultants said it was time to move on and concentrate on economic growth in the heads of the valleys area.
Go to next video: Public 'misled' over circuit decision