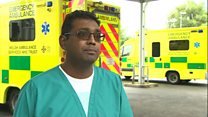 Video
Major trauma care under one roof 'makes sense'
University Hospital of Wales in Cardiff has been recommended to become Wales' first major trauma centre, BBC Wales understands.
There is a network of 27 MTCs in England, providing specialist care for the most life-threatening injuries.
A panel of independent experts has been assessing Cardiff's bid, along with one from Morriston in Swansea.
Cardiff is the only Welsh specialist neurosurgery hospital and many major trauma cases involve head injuries.
The panel of experts from outside Wales was tasked by NHS Wales to assess both bids.
Robin Roop, consultant and vice president of the head of the Royal College of Emergency Medicine in Wales, said major trauma centres were international best practice.
Go to next video: How major trauma centres map out