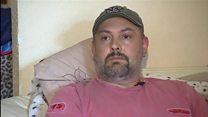 Video
Housing debt: 'So stressed about rent I can't sleep'
Money which is supposed to help people struggling to pay their rent is being wasted by some councils, a housing charity says.
The UK government allocates Discretionary Housing Payments (DHP) to local authorities every year so they can be given to those whose housing benefit does not cover their rent.
But Shelter Cymru said £100,000 of this "lifeline" money was returned to Westminster from Wales last year.
Councils said they promoted the fund but admitted that despite their efforts, application numbers were still too low.
Paul Thornton, from Abergele in Conwy county, said a DHP payment has staved off eviction - for now.
Go to next video: Actor is ambassador of homeless charity