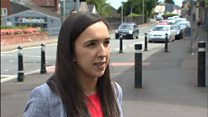 Video
Welsh taxes plan 'likely to target harmful behaviour'
The public is being asked for ideas on what potential new taxes should be introduced in Wales.
Finance Secretary Mark Drakeford said he wanted to "kick-start a national debate" on new taxation and was keen to hear from the public and businesses.
The Welsh Government already has powers over stamp duty and landfill tax from 2018, and income tax from 2019.
AMs have discussed new ideas for other taxes and ministers will consider a shortlist in the autumn.
Nisreen Mansour, of the think-tank Bevan Foundation, said any new taxes in Wales would likely be "sin taxes" based on stopping harmful behaviour.
Go to next video: 'Greater needs properly recognised'