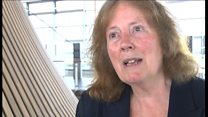 Video
Contaminated blood inquiry: Number of Welsh survivors 'greatly diminished'
AMs have welcomed the decision to launch a public inquiry into the contaminated blood scandal which left 2,400 people dead across the UK.
Julie Morgan, who chairs the Assembly's cross-party group on haemophilia and contaminated blood, said 70 Welsh people died and many were "still suffering".
Thousands of NHS patients were given infected blood products from abroad.
It has been called the worst treatment disaster in the history of the NHS.
Mrs Morgan said people had waited so long for an inquiry the number of survivors had "greatly diminished, people have been dying the whole time".
Go to next video: Government 'knew' blood was dangerous