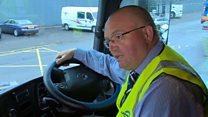 Video
Post-M4 toll congestion 'wave effect'
Two of Wales' leading road haulage figures and an assembly member have warned that lifting the Severn Bridge tolls could increase M4 congestion.
The businesses fear that the proposed M4 relief road around Newport might not be big enough to deal with congestion.
Denise Lovering, director of Glenside Commercials in Bedwas, Caerphilly, said that could risk damaging the image of Wales as a business destination.
Details on lifting the tolls after 2018 are expected "in due course".
Ian Jarman, manager at Llanelli-based Owens Group, said it costs £1 a minute if a 44-tonne truck is caught in congestion.
He welcomes the lifting of the tolls - but said it could have a "wave effect" on congestion along the M4 into south Wales, with a predicted 17% rise in traffic merely by reducing them.
Go to next video: Severn toll abolition 'not a huge surprise'