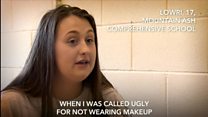 Video
Girl bullied for not wearing make-up had five years of counselling
The way bullying is tackled in schools needs to be radically overhauled, the children's commissioner for Wales has said.
Sally Holland said some schools are reluctant to address the issue, for fear they will look bad.
A report has warned that a lack of consistency in handling complaints leaves some children feeling isolated.
The Welsh Government said all forms of bullying should be tackled vigorously and a school behaviour policy should be in place by law.
Lowri, 17, from Mountain Ash Comprehensive School in Rhondda Cynon Taff, said she needed counselling for five years after she was bullied for not wearing make-up.
She is now part of a pupil movement at the school promoting gender equality and healthy relationships which has had a big impact in reducing bullying.
"WAM: We Are More" has seen young people tackle issues of attitudes towards banter, gender stereotypes, homophobic language, or a perceived pressure to wear make-up.
A regular boys' choir has also been set up, empowering young people who had previously felt a stigma attached to boys taking part in the performing arts.
Go to next video: Law-change call for school bullying