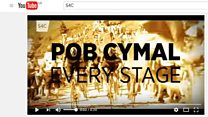 Video
S4C's challenge of young and older audiences
S4C has said its efforts to reach new audiences are working, despite a fall in viewers to programmes on its website and the BBC iPlayer.
Its annual report shows the number of viewing sessions on S4C Arlein and the iPlayer fell to 7.6 million in 2016-17.
During the previous year the sites attracted 8.4 million viewing sessions.
Audiences to its programmes on the traditional Welsh language TV service across the UK also dipped to 9.1 million from 9.9 million the previous year.
But S4C said it had achieved over 18 million views of S4C content on social media platforms including Facebook, Twitter and YouTube. There is no comparable data from 2015-16.
S4C chairman Huw Jones said it was a challenge to meet expectations of both younger and more traditional audiences.
Go to next video: Welsh in England 'turning to S4C'