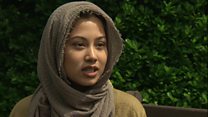 Video
'Easy target' acid attack fear among Cardiff Muslims
Some Muslims in Cardiff have started carrying water when they go out in case they need to treat burns from an acid attack, BBC Wales has learned.
It follows a recent spate of attacks in London and a rise in the number of assaults involving corrosive substances across England since 2012.
Over the same period, figures in Wales show there were 11 threatened acid attacks, five cases of criminal damage and one assault.
It is currently legal to buy acid.
But there have been growing calls for regulations to be tightened.
Abbie Miah said she feels like she may be targeted because of her faith.
Go to next video: 'My helmet saved me' says acid victim