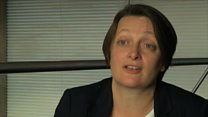 Video
Ian Watkins: 'Difficult' to get rid of bias against victims
Work needs to be done to stop people's concerns about sex offenders being dismissed due to "biases", the Children's Commissioner for Wales has said.
An Independent Police Complaints Commission (IPCC) investigation found police missed a number of chances to bring paedophile Ian Watkins to justice sooner.
Between 2008 and 2012, South Wales Police failed to adequately act on eight reports and three intelligence logs from six people about the former Lostprophets frontman's intentions.
Watkins received a 35-year sentence in 2013 for 13 child sex offences.
Children's Commissioner for Wales Dr Sally Holland said she had seen a change in police attitudes towards complainants over the years.
Go to next video: Watkins 'no remorse' for child abuse