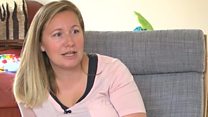 Video
'Childcare an issue' for parents getting into politics
Single parents are being blocked from standing for election in Wales due to a lack of childcare help, campaigners have warned.
The Welsh assembly does not have a creche while none of Wales' 22 councils have childcare facilities.
Equality campaigners said the lack of help made it "impossible" for single parents to stand for election.
A spokesman for the assembly said it was committed to making it a "family-friendly environment".
Mother-of-two Sarah Rees, who stood as a Women's Equality Party candidate in the 2016 assembly elections, said a lack of childcare provision was the main barrier stopping parents getting into politics.
Go to next video: A radical solution to expensive childcare