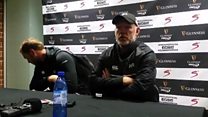 Video
Scott Baldwin: 'Tried to pat a lion on the head like a kitten'
Ospreys hooker Scott Baldwin was forced to miss a game after being bitten trying to "pat a lion on the head like a kitten", his coach has said.
The incident happened during a team trip to Weltevrede Game Lodge on the outskirts of Bloemfontein, before the Ospreys' Pro12 match against their appropriately named hosts, the Cheetahs.
Coach Steve Tandy told South African reporter Brendan Nel the 29-year-old's injury was "one of the silliest things" he had ever been involved in.
He said: "I don't know what sort of wildlife show Scott has been watching where you can pat a lion on the head as if it's a kitten."