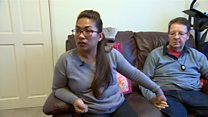 Video
'What's deportation?': Woman's fight to stay in Abergavenny
The wife of a stroke survivor who cannot speak and requires 24 hour medical supervision has spoken of her children's confusion after she was refused a visa.
Simon Waterman is cared for by his wife Leah, from the Philippines, but she has been told to apply for a visa from outside the UK.
It means Mr Waterman is facing having to become the sole carer of their two young children.
The couple, who live in Abergavenny, are appealing the decision.
The Home Office said it was considering Mrs Waterman's appeal and the new information she had provided.
Mrs Waterman described how her children do not understand what is happening.