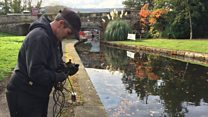 Video
Treasure hunter's magnet hooks WW2 bomb in canal
A woman who uses magnets to fish for hidden treasure hooked more than she bargained for in one Welsh waterway.
Marie Kirkham, from Bala in Gwynedd, took up the unusual hobby about three months ago, trawling the Llangollen Canal for metal objects that can be recycled or sold.
A recent trip to the Trevor Basin yielded an unexpected find - a World War Two unexploded mortar.
It was not until she returned home and posted images on social media that she realised what she had.
Her home and nearby houses had to cleared while experts went in to retrieve the bomb.
Despite the scare, she said she has no intention of giving up the hobby, however she will now think twice when she pulls unidentified objects out of the water.
Go to next video: Treasure found down rabbit hole