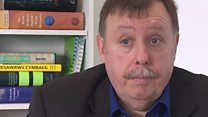 Video
Diabetes.Cymru firm questioned over claims
A national diabetes charity has issued a warning about a new business offering advice for people with the disease.
Diabetes UK Cymru, a charity established in 1934, said the firm promoting itself as Diabetes.Cymru was giving 'potentially catastrophic advice'.
Diabetes UK Cymru also said people are confusing them with Diabetes.Cymru.
BBC Wales spoke to one family who said their 82-year-old relative became ill when she was given advice on her diet by Diabetes.Cymru.
Eryl Vaughan, the director of Diabetes.Cymru, said it has changed the advice on its website, and that many organisations have similar names.
Reporter India Pollock quizzed Mr Vaughan about his company - and put the claims about the elderly woman to him.
Go to next video: Diabetes charity warns over advice firm