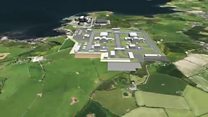 Video
Wylfa Newydd nuclear power station 'a 100-year project'
A major landmark in the plans to build the £10bn Wylfa Newydd power station has been reached.
Horizon has submitted its application for how it will manage and dispose of nuclear waste and launched a consultation.
It will look at how the proposed new station on Anglesey will discharge, transfer and dispose of radioactive material.
Natural Resources Wales (NRW) is asking for views on Horizon's application for an environmental permit.
Richard Foxhall, Horizon stakeholder relations manager, told BBC Wales environment correspondent Steffan Messenger that Anglesey had the experience and track record to deliver another nuclear power station.
Go to next video: Wylfa 'will have impact for a century'