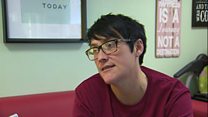 Video
Cancer diagnosis in Wales 'needs to change'
The current cancer waiting times targets in Wales could end up being scrapped under plans to be announced by the Welsh health secretary.
Nurse Becky Thomas, from Merthyr Tydfil, sees the cancer diagnosis issue as both patient and health professional and would welcome anything to speed up the process.
She had vague symptoms when she saw her GP but was only diagnosed with bowel cancer later when she confided in a colleague in hospital.
Ms Thomas told BBC Wales health correspondent Owain Clarke she had surgery and chemotherapy and, since February, has been cancer free.
Go to next video: Cancer 'alarm bells must be listened to'