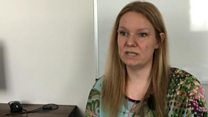 Video
Safety kits introduced to 'cut risk' from drug litter
Safety kits are being issued to drug needles in a bid to 'reduce the risk' to the public of discarded needles.
The devices - called Safeloc Kits - encase the needles and trap them inside breaking them in the process.
They are being issued to users at needle exchanges across Wales after a successful trial in Cardiff and the Vale.
Cardiff drug service manager Leanne Bruford said they had been developed after issues with drug related litter.
She said if the user put the needle into the device there was "no risk to the public if they picked them up".
Go to next video: Barrow's 'Russian roulette' drugs problem